Testimonials: Bright Sparks who like what we have done...
If you would like to add your testimonial or feedback please use our contact page form, facebook page or email us directly : )


Facebook Reviews:

---

---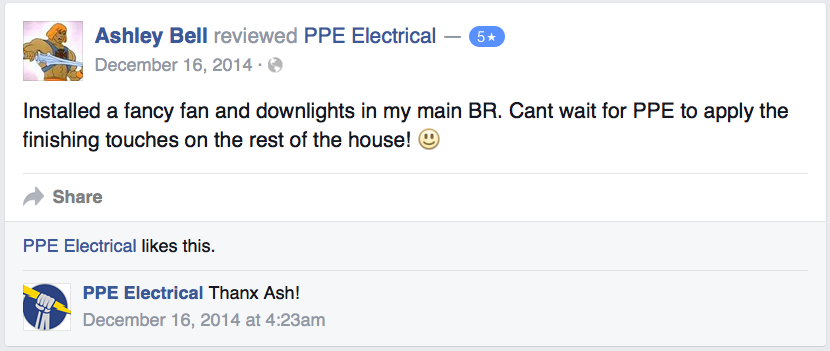 ---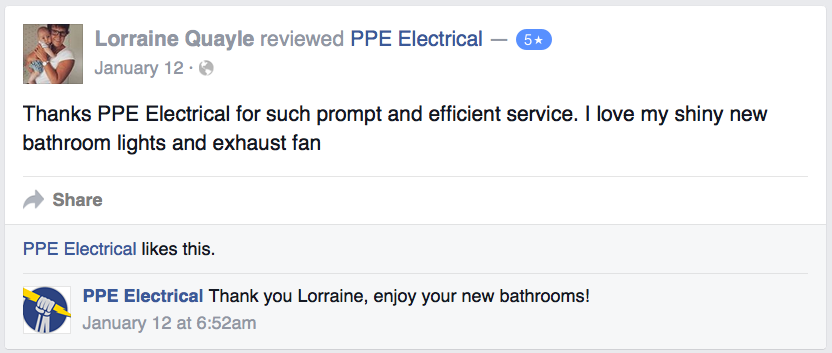 Email Reviews:
I`m an aged pensioner and had a couple of small jobs to be done, having recently moved into a new area. With no local recommendations, I found PPE on Google. I struck gold finding Paul. His professionalism is immediately evident and his friendliness most welcome. His rates are very fair, and when you find quality workmanship, and know you can rely on a job safely done, the cost is not always of prime importance, but the total cost of my work was a pleasant surprise. It seems increasingly difficult to find good service in this day and age, and this is another reason why I think I have been very fortunate to engage Paul as my electrician. I cannot recommend him highly enough.
Sincerely, Joy Langford, Gwelup
Added March 17 2016
---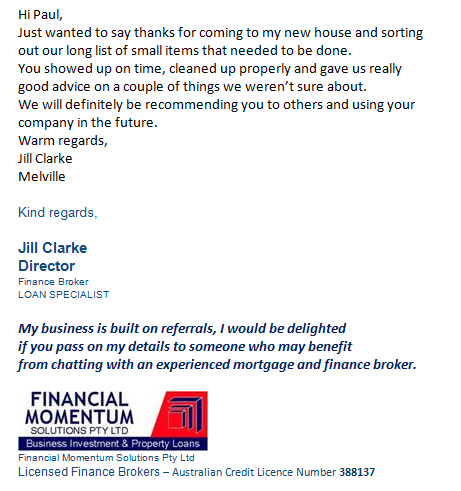 ---
Hi Paul,

Just wanted to drop you a line and thank you and your company PPE Electrical for all the electrical work you did. Your suggestions regarding the lighting were spot on and not only do they look good but give us lots of options within the rooms. Thank you for your patience as we kept expanding the work we wanted, and we definitely appreciate the extra efforts you and your team did on the day including leaving our home spotless. We will certainly be recommending PPE Electrical as a great electrical company.

Yours sincerely
Gillian and Keith
Rossmoyne WA
---
From the moment I first spoke to Paul on the phone, I felt reassured that he was going to be able to help me and was reliable. I have used Paul several times in the past year to do the electrical work for a home renovation I have been undertaking. It is an old house and Paul has been fantastic in ensuring all the electrical work in the house meets the current safety standards. This has been very reassuring for me being the father of two small children. Paul is an excellent communicator. Paul will always listen to your request and then will clearly explain what needs to be done in plain English, followed up with a very accurate estimation of the cost. Paul will offer ideas on more efficient ways of doing things and does so in a very easy manner so as not to cause any offense. Quite often Paul will save me money even though it is affecting his own bottom line. Paul has always been on time, which is a real rarity these days after having dealt with all sorts of trades during my house renovation. I would not do a testimonial for any of the other trades I have used. Paul is very competitive with his pricing and uses only the best quality/priced parts. There have been some challenges during the renovation which Paul has had innovative ways of solving. I don't think many electricians would have been able to fix these issues and still have the job look so professional. Paul is an incredibly tidy worker who always cleans up after himself, another rarity with trades these days. I thank Paul and PPE Electrical for their quality workmanship, efficient work and competitive price! I could not have completed the house renovation with my sanity without their help.

Richard
Joondalup
---
Text Messages:
---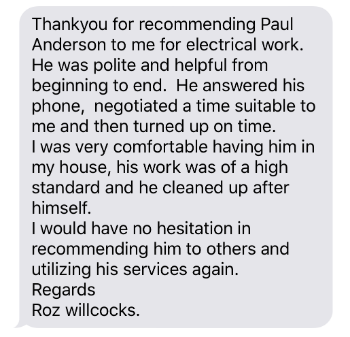 Call before June 2, 2017 Mon - Fri 7am-5pm and
Save $80!
- No call out fee will be charged
Call Mobile 24/7
Mob: 0414 799 047
For Any Emergency Help